We may earn a small commission from product links. Blog posts at Nimble Made are written to provide value and advice for our readers—any product(s) we recommend are items readers use and love.
Finding the best men's dress shirt is a tough task. And taking the risk to buy clothes specifically designed for skinny guys online makes this task even more difficult. Fortunately, for those searching for the best slim fit men's dress shirts, Nimble Made is here to help! In this men's dress shirts review, we'll provide a quick look at the best men's dress shirts around—specifically designed for slim guys.
We've reviewed 21 choices, but summarized our top 3 below. We have in-depth reviews of all 21 slim-cut dress shirts for men further down.
Top 3 Favorite Dress Shirt
#
Brand
Rating
Comments
1

[Overall Favorite] Nimble Made

★★★★★

4.7 / 5

Actually Slim
Multiple Unique Styles
Extremely High Quality
Free shipping, exchanges & returns, no minimums
10% off first order with code: WELCOME

2

Banana Republic

★★★★☆

4.2 / 5

Good Quality
Lots of Classics

3

Bonobos

★★★★☆

4.1 / 5
21 Best Men's Dress Shirts Brands for 2023
We reviewed the best brands with written reviews further down.
Detailed Review of The Best Dress Shirts
Nimble Made is a modern specialty brand offering premium men's dress shirts that have a genuinely slim fit. Their line of shirts is designed with the trimmer man in mind, featuring trimmed shoulders & back measurements, fitted sleeves, and the proper sleeve lengths.
Traditional neck and sleeve measurements are archaic, which is why the popular Nimble Fit men's dress shirts collection uses your height & weight to determine the optimal dress shirt size, making it an easy #1 pick for not just this list, but many as one of the best men's slim-fitting dress shirts brands.
This is their bestselling blue dress shirt that has sold out over 8x.
You no longer have to worry about dress shirts that feel like a tent or ones so stiff you end up leaving them hanging in the closet. You will love the breathable and comfortable fabric on this light blue dress shirt that moves with you instead of fighting against you. If you're a shorter guy, check out this comprehensive guide on the best clothing for shorter men.
The prices of their various shirts vary, but all are quite affordable. While some competitors top out at $160, you can get Nimble Shirts for half to a third as much. The Waterbend with a classic collar in pale blue is $80 at full price. They also have helpful guides around other collars like the club collar and fabric styles.
Shop Professional Slim Business Dress Shirts
or
Banana Republic has been a staple brand in quality clothing for some time and they definitely do not shy away from providing the trendiest clothing styles at affordable prices and the dress shirts for men are no exception.
Their Grant style features their slimmest cut with a flexible wrinkle-resistant fabric, so you don't have to pull out that iron. Available in several sizes including tall shirts for taller skinny guys so you can get good sizing for work or any other occasion. Great with and without a tie.
3. Bonobos Daily Grind- Wrinkle Free 
Bonobos may not be the first name that comes to mind when you think of men's dress shirts, but don't make the mistake of writing them off. While they do offer quality men's clothing of all types, their Daily Grind dress shirts are a great choice for men that find many department store dress shirts too roomy to give them the look they want. As an added bonus, these dress shirts are wrinkle-free.
The Crescent is more than just a dress shirt, it's Nimble Made's best white dress shirt yet. Made from premium materials with a white broadcloth weave, this formal white dress shirt boasts both durability and comfort. You can confidently wear it all day long, from morning meetings to evening soirées.
Whether it's a formal business meeting or a special celebration, this men's slim fitting white dress shirt rises to the occasion. This solid dress shirt has the versatility to pair it effortlessly with any suit or blazer, giving you a refined look that stands out in a crowd.
5. J. Crew Ludlow 
A list of men's clothing would not be complete without something from J. Crew. This button-down dress shirt for men has been redesigned and crafted with a combination of breathable cotton and durable elastane for a machine-washable shirt that will resist wrinkling and be extremely comfortable. This J Crew shirt can also be monogrammed so it makes a great gift for any professional guy on the skinnier side with a longer sleeve length.
A solid black dress shirt for men with all the benefits of performance material: 4-way stretch, anti-sweat, and non-iron. Wear this black dress shirt for evening and casual events. This best black non iron dress shirt comes in a slim fit that gives a little extra room for those looking for more mobility, making it the best movement shirt.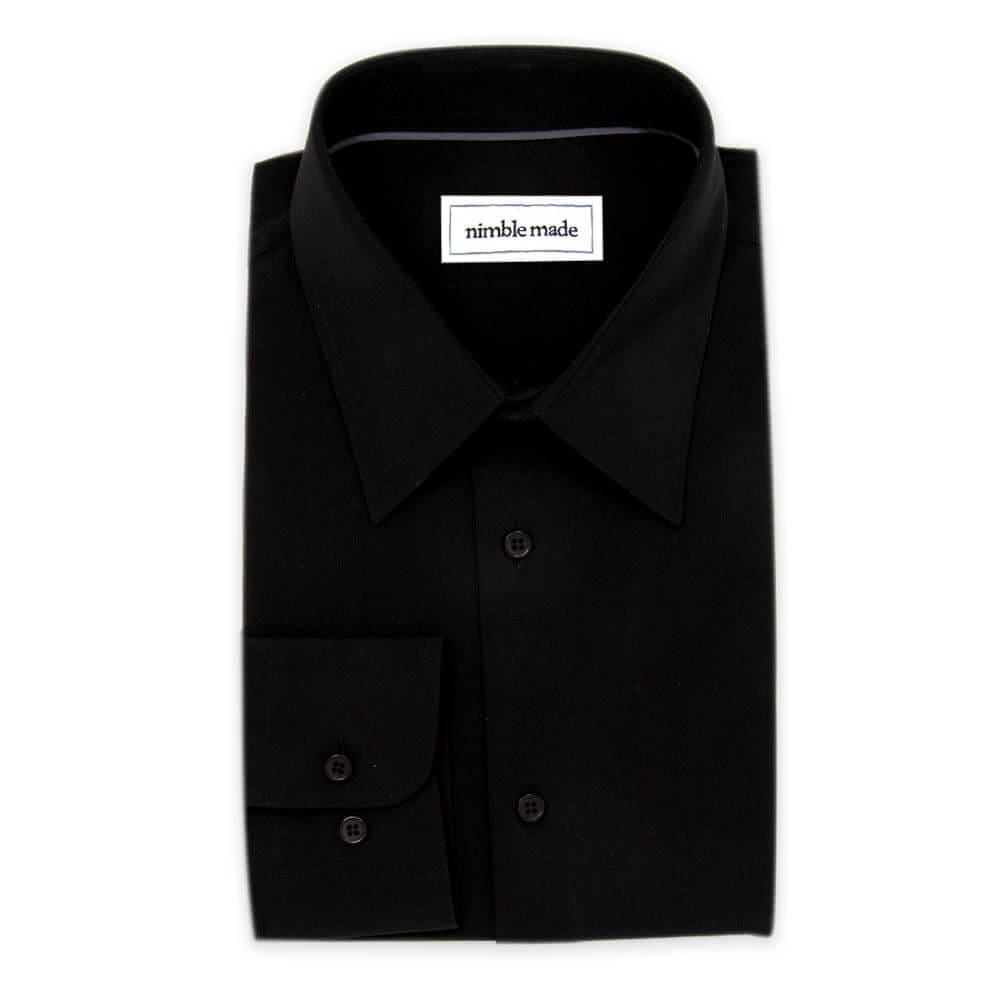 The softness of the Supima Dress Shirt is sure to surprise you. This no iron dress shirt is made of 100% US grown cotton, this white dress shirt with a skinny fit is designed to be worn either tucked or untucked, depending on your personal style. It is a little a close to a regular fit though so if you have a smaller frame consider going one size smaller.
This shirt also features a no-iron touch that allows for up to 30 washes before you have to worry about breaking out the iron.
You can also find our favorite untucked dress shirts here.
If you're looking specifically for a white dress shirt then read our review on the best white dress shirts here.
Everyone knows this brand, but they make much more than their familiar line of undergarments, including dress shirts. This X, stretch dress shirt has cotton with just a touch of spandex for comfort and flexibility. This shirt is great for guys who run a little hot under the cutaway collar thanks to the moisture-wicking fabric.
Introducing The Scholar, Nimble Made's Light Gray Oxford Button Up Dress Shirt, designed to be the epitome of elegance and sophistication. This meticulously crafted light gray dress shirt strikes the perfect balance between classic design and modern aesthetics, making it a versatile addition to your wardrobe. This is one of the best tall dress shirts for skinny guys.
This gray oxford button up shirt exudes an air of refinement that suits any occasion. Its light gray button-up collar adds a touch of understated charm, making it an ideal choice for both casual and formal events. This light gray oxford shirt complements a wide array of outfits, making it a wardrobe essential for the modern man.
10. Uniqlo Slim-Fit
Just because you have to go for an affordable option does not mean you need to sacrifice style and comfort. Not only is this dress shirt good quality, but it is extremely affordable. And with Uniqlo, you can usually get a discount when you buy two or more. Uniqlo has reasonable good quality for relatively cheap dress shirts, which are available in a number of sizes and styles. Uniqlo is made for smaller, slimmer guys and are best for those who don't have a big neck size. Some of their shirts also have various cuffs and is one of the brands that feature a French cuff.
Uniqlo is an Asian brand, making it great for shorter guys as well. They're featured in our list of best dress shirts for short guys.
This is a solid men's blue dress shirt that's classy and perfect for any occasion. Elevate your wardrobe with our slim fit blue collared shirt for men. Crafted from 100% cotton, this versatile shirt features a point collar and a captivating heather blue hue.
The included metal engraved collar stays ensure a polished appearance. Easy to care for, it's machine washable and hang dry, with easy-iron and steam properties. Embrace timeless elegance with Nimble Made's blue button up dress shirt and add it to your collection of best men's dress shirts.
These cotton shirts are made of 100% pure cotton and is a white button down dress shirt to add a touch of uniqueness to your attire. With a carefully crafted pattern, this tailored fit exudes charm and elegance, making it ideal to add to your best white dress shirts collection. You'll stand out effortlessly with the refined and striking patterns that elevate your style to new heights.
Dress it up with a tailored suit for formal affairs, or dress it down with chinos for a laid-back look when worn untucked- the choice is yours. This shirt effortlessly adapts to any style, making it a good dress shirt in any man's wardrobe of men's white dress shirts with a button-down collar.
Brooks Brothers is a popular brand known to make their own rules and that is evident in their line of Regent dress shirts. Regent is the Brooks Brothers term that closely translates to slim-fit. This shirt has Supima cotton to provide all-day comfort while remaining wrinkle-free and can even be machine washed.
Brooks Brothers have their special line for slim men, but we feel it still runs a little heavier than expected, which is why it's in the back half of our list.
Tommy Hilfiger is a great designer with specific requirements that translate well into their dress shirts like their other garments. Don't let the price fool you, this shirt is 100% Imported Cotton for comfort and durability. This shirt is closer to a small athletic fit than a traditional slim fit, so check sizes closely.
15. Nordstrom Men's Shop Smartcare Trim-Fit
Nordstrom only allows the best of the best in their Men's Shop. Their best men's dress shirt, for example, is made with a Smartcare finish to provide wrinkle-free maintenance in a high-quality point collar dress shirt. It is 100% cotton and you can also machine wash and tumble dry this dress shirt.
It's not cheap, but their 100% cotton dress shirts are high-quality. You can also get a broadcloth shirt from them.
16. Marc Anthony Non-Iron Stretch
Marc Anthony brings together style, comfort, and durability in this slim fit dress shirt made of cotton and spandex. Not only does the fabric resist wrinkles while you are wearing it, but the machine-washable fabric can also even be tumble dried, saving you on expensive trips to the dry cleaner.
17. Saks Fifth Avenue - Theory Dover Sword

We had to make sure that you had at least one higher-end option, and that is this Theory Dover Sword dress shirt from Saks Fifth Avenue. For the man who wants to show off a bit, this dry-clean-only dress shirt features a cotton twill. 
This is the one of the priciest dress shirts on the list. It is a great shirt if you need to make a statement, but the higher cost moved it down the list for us.
18. Woodies Custom Shirts at Department-Store Prices
Have you ever wanted a custom-tailored shirt, but had no idea how to get one? Now you can get a custom shirt at a department store price thanks to the Woodies. Their shirts are customizable, allowing you to select the collar, cuff (they even have barrel cuffs), and whether you want to add a pocket. While it may not be a truly personally customizable shirt, it is pretty close. They are awesome as tall, slim-fit dress shirts.
19. Club Monaco Slim Band Poplin
We hesitated to add a band collared shirt to the mix but just couldn't help it with this amazing and stylish shirt from Club Monaco. This slim-cut dress shirt is 100% cotton, so the shirt will move well and breathe. And the simple care of being machine washable is a great bonus. We realize the band collar may not be for everyone, but if it is, then this would be a fantastic choice.
20. Men's Wearhouse Esquire Non-Iron
Our final dress shirt option for the skinny guys comes from Men's Warehouse, a long-standing staple in the business dress arena. Not only is the Esquire shirt a great looking dress shirt with stretch cotton, but for those worried about the risk of buying clothes for skinny guys online; problem solved. With Men's Warehouse, you can reserve what you like and go try it on at the store. A unique blend of traditional shopping and online convenience. Here's our guide to the differences between Jos A. Banks and Men's Wearhouse.
21. Charles Tyrwhitt Non-Iron Lilac Micro Diamond Dress Shirt
Charles Tyrwhitt dress shirts are well known for their high-quality design and materials. This unique choice offers a relatively unique color with a high-quality dress that you won't need to iron. They also have spread collar options and even a decent bradcloth shirt.
Full Men's Slim-Cut Dress Shirt List, In Order of Rankings
| | | | |
| --- | --- | --- | --- |
| | Brand | Style | SHOP NOW |
| 1. | Nimble Made | The Waterbend | |
| 2.  | Banana Republic  | Grant, Non-Iron | |
| 3. | Bonobos  | Daily Grind – Wrinkle Free | Shop Now |
| 4. | Nimble Made | The Crescent | |
| 5. | J. Crew | Ludlow | Shop Now |
| 6. | Nimble Made | The Yin | |
| 7. | Lands End | No Iron Oxford | |
| 8. | Calvin Klein | X - Stretch | |
| 9. | Nimble Made | The Scholar | |
| 10. | Uniqlo Slim-Fit | Easy Care Slim Fit | Shop Now |
| 11. | Nimble Made | The Irena | |
| 12. | Nimble Made | The Melati | |
| 13. | Brooks Brothers | Regent | |
| 14. | Tommy Hilfiger | No-Iron | |
| 15. | Nordstrom Men's Shop | Smartcare Trim-Fit | Shop Now |
| 16. | Marc Anthony  | Non-Iron Stretch | Shop Now |
| 17. | Saks Fifth Avenue | Theory Dover Sword | Shop Now |
| 18. | Woodies  | Oxford | Shop Now |
| 19. | Club Monaco | Poplin | Shop Now |
| 20. | Men's Wearhouse | Esquire Non-Iron | Shop Now |
| 21. | Charles Tyrwhitt  | Non-Iron | Shop Now |
Final Thoughts On Finding the Best Men's Dress Shirts
We hope you have found the dress shirt for you or a slim guy in your life that is just perfect for your unique needs. If you have a bigger frame and are stockier, you may want to check out some of these athletic fit dress shirts.
Frequently Asked Questions about the Best Slim Fit Dress Shirts
1. 
What clothes should skinny guys wear?
Here are several clothing suggestions for men with slim frames, including recommended clothes for tall skinny guys.

- Avoid Skinny Jeans.
- Dress in long-sleeved shirts.
- Keep an eye on your upper body fitness.
- Layer your ensembles.
- Dress in Slim-Fit Tailoring.
- Put on slim shoes.
- Avoid V-necked shirts.
- Utilize Patterns and Colors to your advantage.
2. 
What is a slim-fit men's dress shirt?
Slim-fit dress shirts are exactly that - slim! Unlike casual shirts or other dress shirt designs, this style of men's dress shirts is cut to provide a clean, professional look that fits extremely close to the body.
3. How to know if I Should I wear a slim fit shirt
?
For those with a thinner build, slim fitting shirts are perfect, but they are not recommended for those with an athletic build. The problem with narrow fit shirts is that they almost always need tailoring in order to look their best.