We may earn a small commission from product links. Blog posts at Nimble Made are written to provide value and advice for our readers—any product(s) we recommend are items readers use and love.
We know that there is no set way to dress like a "man." What we do know, however, is that there comes a time in every boy's life where it's time to act and dress like an adult. Maturity is not something that only exists in the way you behave in the world, it's also something that can be reflected in the way you dress. 
As you get older, you want people to take you seriously. If you have dates over, you want them to know they're dealing with a man, not a boy. Showing care and attention to your appearance not only makes you more attractive it helps to reflect the responsible person you are. We have listed out a series of tips and rules down below on how to dress more appropriately and put together a wardrobe that will help bring out the mature, responsible man that is inside you. 
All the style tips you need to know 
Style and dress yourself with intent
Clothes have a purpose and as an adult you need to be able to communicate that through your wardrobe. As easy as it is to just wear a graphic T-shirt and old jeans everyday, what it comes down to is intention. If you're dressing yourself with no care or attention, it becomes no different than when you were 5 years old letting your parents pick out all your clothes for you. 
As an adult you have to be able to take care of yourself and that goes for your appearance as well. If you want to be taken seriously as a mature adult, then you can easily showcase that in your clothes. Once you can master dressing with intent, then it can become part of your everyday routine and everyday after, dressing yourself will become more meaningful. You'll be able to face your purpose for the day and start it with the right foot forward. This also means investing in pieces that look good on you, rather than ones from decades ago. A well-fitted basic t-shirt with a pair of jeans can look more classy than your old high school PE shirt with the nicest shoes. Take a look at Nimble's collection of t-shirts to up your wardrobe game in the basics department. 

Invest in a suit that fits
Walking around in a suit that is obscenely large on you, might have been cute when you were 3 years old, but the same rules don't apply when you're older. Sure, wearing a suit that doesn't fit you quite right won't be as alarming as something that is three or four sizes too big, but when you wear an ill-fitted suit the effect is still sad. 
Suits are meant for formal and professional occasions and are quite naturally, an inevitability in our lives. This is why you should invest in something quality that can be used for these occasions. That way you aren't a deer caught in headlights when these occurrences come. Plus, a suit that fits you well is a great confidence booster! 
With owning a suit that's tailored to you comes what you want to be wearing inside: dress shirts. Again, it matters both what you're wearing and how you wear it. You don't have to spend a lot of money to look like a million bucks! All that matters is that you're wearing something that's suitable to your body type. Nimble's collection of dress shirts will have something for all men and be a stylish addition to your wardrobe.  
Have a quality watch
This tip is more so for those who are interested in making watches a part of their accessory collection. Watches can be a great way to elevate your outfit and overall vibe. They're classic, aesthetically pleasing, and can be extremely personal. Some personalized or luxury watches can even be passed down through your family for generations. Regardless, the watch should fit you. Something loose makes your wrist look dainty and something too tight is just plain uncomfortable. Take the steps to find a watch you love and then get it sized for your wrist.  
Wear your confidence
This may mean different things for different people, but what we're trying to say is to find a style that makes you feel powerful and confident. You want to be able to walk into a meeting at work and stand out, in an appropriate way, of course. Blending in with the crowd just doesn't help you when you're trying to move up the chain of command.
It's important to keep reminding yourself of what you're trying to accomplish. You can't only think like the people at the top, you have to emulate them as well through their wardrobe. Sure, you won't be able to afford everything, but with enough determination and budgeting savvy, it's possible to achieve similar looks. Don't be afraid of being bold, even if you have to work up to it. Confidence in yourself is everything.  
Own jeans that fit and flatter you
Blue jeans are classic and overall staples in anyone's closet. Which makes it important to have jeans that fit and flatter your legs and hips. Investing in jeans that accomplish this, are well worth the high price tags. Wearing the right fit of jeans can elevate your casual outfits by a lot. It takes you from a managing teenager to a mature adult. Try finding dark, raw denim that can distress and fade over time as you continuously wear them. Jeans that can reflect their journey with you. Adding to the meaningfulness of dressing yourself every morning.   
Don't be afraid of wearing color
For some reason, men feel intimidated by anything that isn't black, navy, or grey. Dark colors have a wonderful neutrality about them, making it able to mix anything with them. The problem lies in having these colors in your closet, only. Indulging in other colors may feel uncomfortable if you aren't used to it, but trust us when we say that adding colors to your closet can elevate some of your outfits. Don't be afraid of greens, reds, and various shades of blues. When it comes to color, less can help you a long way. You don't need to have a rainbow array of shirts and button ups, unless that's your aesthetic, but color accents like pocket squares in suits, socks, and vests can help break up the monotony of a dark and drab closet.  
Focus on building your staple wardrobe
Before you can begin expressing your individuality and uniqueness, it's important to have a core base of clothing that you can rely on for work and everyday use. This means having a varied collection of button ups, pants, shoes, and jackets. If you could have three different colors or shades of each item, you can have enough to interchange them and create enough outfits for the week. More combinations, the more money you can save. 
Own effective outerwear
Unless you live on top of the equator, then it's more likely that it can get cold wherever you are. It's important to combat this with appropriate and effective outwear. This can change depending on where you reside. If you're experiencing a Los Angeles winter, then you won't need something too heavy duty. You can utilize bomber jackets and jean jackets. If you experience snowy winters where the temperature can drop giving mind-numbingly coldness, then you might have already invested in outerwear that does the job. 
Owning clothes for every type of season and weather occurrence, is part of taking good care of yourself. In return, you appear as an adult who knows that being prepared for the elements of mother nature is just as important as dressing up for an important meeting. If you don't have proper outerwear attire, then do yourself a favor and buy some.   
Treat you and your clothes with care
There's another step after purchasing the clothes to round out your wardrobe. Assembling the pieces for a good outfit is only step one of the process. What comes next is your ability to care for your clothes and yourself in general. When it comes to your appearance, just be sure to implement an effective grooming routine. That wonderful fitting suit you own can only help you so much when you have an unruly beard of unkempt hair. Go the extra mile to care for all of those things. 
Your natural appearance isn't the only thing that will need care and maintenance, but your clothes themselves. We're talking ironing wrinkled shirts, washing your clothes in the right loads, and hanging everything that should be hanged. Don't leave clothes fresh from the dryer to wrinkle on your chair. Every man has the means to do the chores needed to keep your clothes fresh and ready to wear. If you don't own an iron and ironing board then, we suggest picking one up at your earliest convenience. Dress shirts and button ups are just prone to wrinkles given their delicate fabrics. Plus, you'll be able to fix up any wrinkle T-shirt that was left in a pile. Do this to help your clothes and also to help yourself. This is just as important as making the choice to buy the clothes in the first place.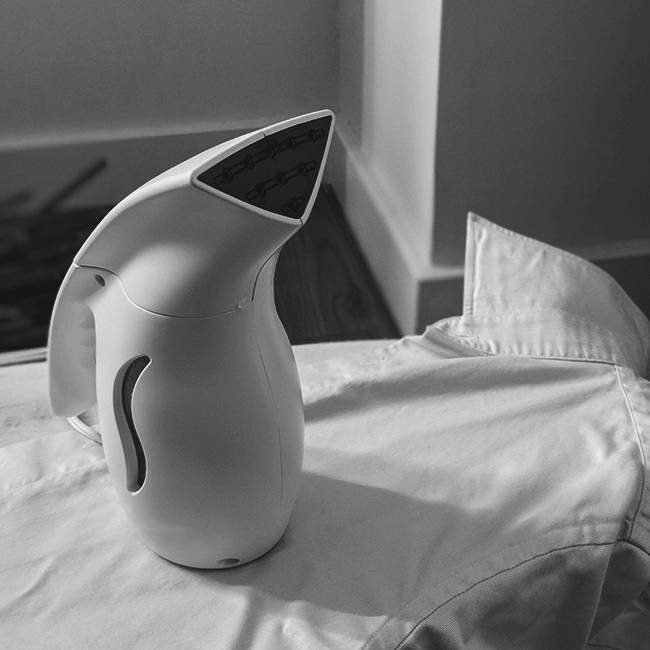 Declutter your wardrobe
Like Marie Kondo says, "Hold the item and if it doesn't bring you joy then it's time to say goodbye." Sometimes life can just get ahead of you and before you know it you have a closet filled to the brim with clothes that you haven't worn in years. To make space for all the new purchases, go through your closet and filter out all the pieces that haven't seen the light of day since college graduation. 
This isn't just to clean out your closet, it's also a meditative process. Clearing out the clutter helps to clear out your mind. It also becomes a journey with yourself and the clothes you've used throughout the years that have all been a part of expressing yourself to the world. Whether that was your intention or not. Once you've finished, not only will you have room in your closet, but you will also know that everything in your closet you absolutely love. 
Keep that underwear drawer simple
Just like you need to clear out that closet, be sure to do the same to your underwear drawer. We know very well how underwear drawers can sometimes be an abyss for socks to get lost into. Keeping things tidy is part of being an adult and we understand that some things will inevitably be forsaken. Help the future you out by cleaning up that underwear drawer and doing the same process you used against decluttering your closet. Clearly lay out the comfortable underwear and socks you use and filter out the unpaired socks and holey boxers. 
Don't be afraid to experiment
Sometimes you just won't know what you like until you try it. Don't be afraid to explore different patterns, shoes, and types of shirts and pants as you go through this journey. We understand that being bold and going out of your comfort zone can be scary. It's supposed to be. Sometimes, by going the extra mile and trying something new is the only way we can achieve optimal self-love and confidence. Just remember that you are your own worst critic and anybody else that has judgement doesn't really matter in the long run. Experiment because it's good for your soul and you deserve it!  
Dress for the occasion
To dress for an occasion means to know the difference between casual formal and black tie on a wedding invite. Being able to know which outfits to where to what is helpful knowledge when you're navigating the adult world. Yet, this isn't just for yourself and your appearance, but for the people you love who are inviting you to their wedding or party. Knowing what's appropriate to wear and what isn't is just common courtesy. 
In case you aren't sure, always consult the all knowing tool that is Google. Casual formal means you don't need to wear a fine suit, but something with a collar, some nice pants, and stylish shoes could be enough. Pair it off with an unlined lazer and there you have it. Of course, formal means suit and black tie equals tuxedo. Since black tie, is more uncommon you should have formal and casual formal outfits already hanging in your closet.    
Invest in your sunglasses
Time to toss those ten dollar rack frames and invest in some shades that will actually protect your eyes from the UV light. Also, taking a trip to a store that works solely in sunglasses, the associates there will be able to help you find a pair of glasses that accentuate and fit the frame of your face. When it comes to sunglasses, it isn't one size or style fits all. There you will also be able to find different styles and colors that might be a helpful stepping stone towards experimenting more often. Just do your eyes and your face a favor by investing in some quality sunglasses to add the right vibe to any of your outfits. 
Know when to break the rules
Ultimately, when it comes to anything creative, such as fashion, there aren't any rules! Keep in mind, that only applies to those who know the rulebook in the first place. You can't very well break the rules if you don't even know the rules yourself. You've taken the first step by trying to educate yourself on how to approach this whole process by reading this. There's a lot more to this whole thing than "don't wear white after labor day." We just want you to know that once you've figured out what style you like and don't like. Then, you can really begin to break the molds! 
Finally, keep getting to know your style
With that being said, keep getting to know yourself and see what styles excite you and boost your confidence from casual celebratory events to important funeral outfits for men. Clear out your closet, fill it with things that make you feel like a man, and go be your best self. Experiment and keep fine tuning the styles that work for you. Don't be afraid of the judgements of other people. As Dr. Seuss once said, "Those who mind, don't matter and those who matter, don't mind." Fashion isn't about keeping up with trends, it's about exploring and expressing your true self to the world. We understand that this process is a journey, but know that everyone is rooting for you!