A look into the lives & style of Nimble Men
Harvey Wong comes from humble roots. Born in Brooklyn and raised in Queens, he is at a first glance the epitome of New York cool. The son of two hard-working entrepreneurs from Taishan in Guangdong province, Harvey grew up admiring the hustle of his immigrant parents. Their devotion to realizing the American dream for Harvey and his younger sister are the building blocks which have inspired Harvey's own makings in the Big Apple.
Clad in a gray marled wool three-piece suit from J.Crew with the Crescent shirt pressed neatly underneath his vest, we met at the Museum of Chinese in America (MOCA) for his belated birthday catch up. Surrounded by the warmth of MOCA, smooth wooden panels perched atop aged brick walls boasted memorabilia recounting the Chinese American experience throughout generations. We admired each cluster of stories and artifacts from times long gone, yet all still so relevant. Although friends for some years now, I felt as though I was meeting Harvey all over again as he shared his affinity to many of the mementos decorating the walls. He told me about his parent's experience coming from China and his trips visiting as a kid. We spoke about the Chinese Exclusion Act and how animosity and hatred which fueled this legislation is ever prevalent more than a century later.

As we worked our way through the museum, a particular collection beckoned the most attention. La Choy Chopped Suey advertisements and vintage Chinese takeout menus plastered a small corner of the main room. Ranging in color, typography, and styling, these served as evidence of a common trajectory for many Chinese Americans as restaurateurs. Harvey's parents too achieved their own American dream by capturing a small part of New York City's thriving restaurant scene, which has become so much of Harvey's life as well.
Once our journey through MOCA ended, we completed his birthday celebration with a trip to the Chinatown Ice Cream factory. As Harvey walked me through the streets of Chinatown, street cleaners swept the confetti littering the ground, marking the festivities of Chinese New Year parade hours before. He talked me through plans of his new restaurant and how he has been thinking carefully about crafting a unique culinary experience blending his Chinese heritage with his love of New York.
A little more about Harvey, his style and what happiness means to him below.
So you're a New Yorker through & through. Tell me a little about your life growing up inthe city.
"Well, growing up in the city is all I really know outside of the handful of times that I was able to go away for the summer to camp, or the years I spent up in Albany for college. I think my life and experiences growing up in New York reflect a lot of the same experiences that other minority New Yorkers in my generation grew up with. But if you're asking me specifically about the type of person I was growing up, I think I was very much a seeker. I loved venturing off on my own to discover things on my own all around the city."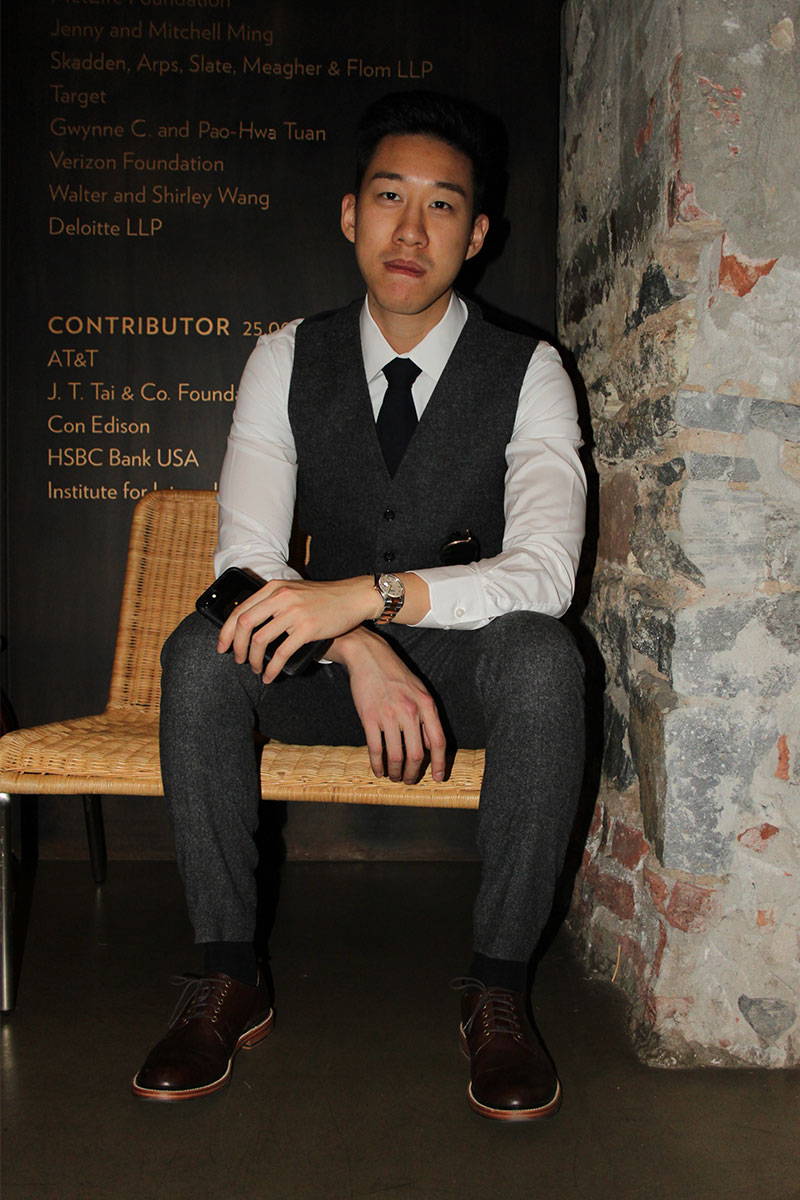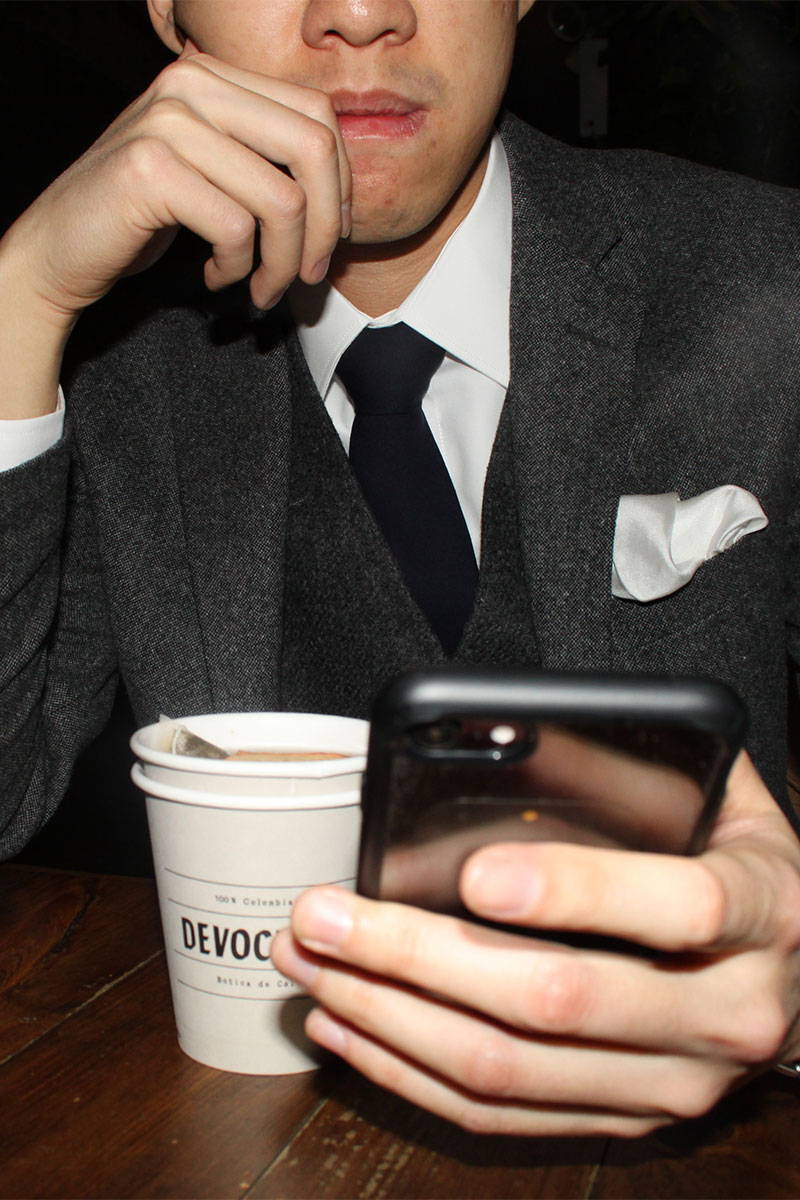 Your parents are seasoned entrepreneurs.
What was it like growing up where hard work and hustle were the threads that kept your family close?
"Hard work and hustling to get what I want was definitely something that my parents made sure to instill in me. However, seeing all that they have achieved has been a bit of a double-edged sword for me. On one hand, as a first generation Asian American, my parents have always preached about working hard and hustling to get what I want – but hoping that I did so by pursuing a white collar career. When it came to me voicing an interest in a field outside the realm of becoming an accountant, a doctor, a lawyer, or some other cookie-cutter profession, it was discouraged and dismissed.
In my mind, for someone to be a successful entrepreneur, there are so many sacrifices to be made. You have to persevere through all of the obstacles that come up that will hinder your vision. Because of the fact that my parents went through this and deeply understood how hard it can be, they instinctively wanted what they saw as an easier route for me. I only really started to gain the full support of my parents to pursue entrepreneurship the moment they realized how dedicated I am to my future, and how far I am willing to go to make it a reality."
As an aspiring restaurateur, what are some of the best places to eat in the city?
"Kings Co Imperial is always a great bet. Marea, Don Peppe and Cocoron are also some of my favorites."

You've departed from corporate America in 2017 to do your own thing. Tell us about what you're working on now.

"I am the owner and founder of Alchemy & Co, a full-service creative agency. I am also working on starting up my own restaurant – inspired by many of the favorite things about growing up as an Asian American in New York."

Was there a point in time where you really decided what your personal style would be?

"My style has changed a lot over the years and is very dependent on my state of mind, mood, and inspirations at a specific point in life. I think my personal style really started to develop once I stopped going for a specific style archetype or look. I started playing around with the staple pieces in my wardrobe and dressing in what I felt worked best for me."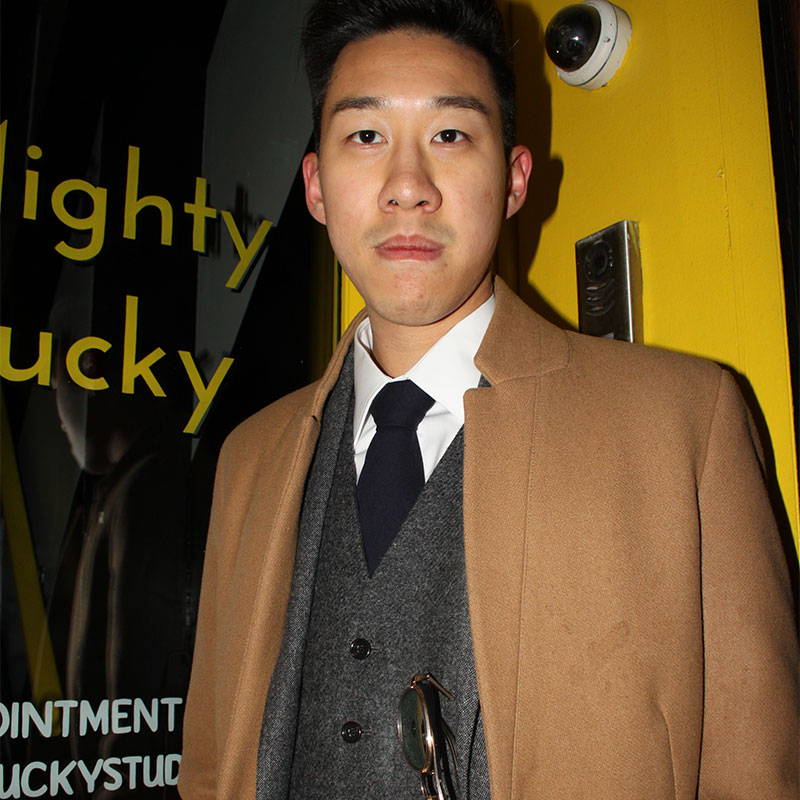 Do you have any style influences? These can be either people, culture, times, places.

"I'd say my top style influences are Doctor Woo and Lenny Kravitz. I also draw a lot of inspiration from Tom Ford."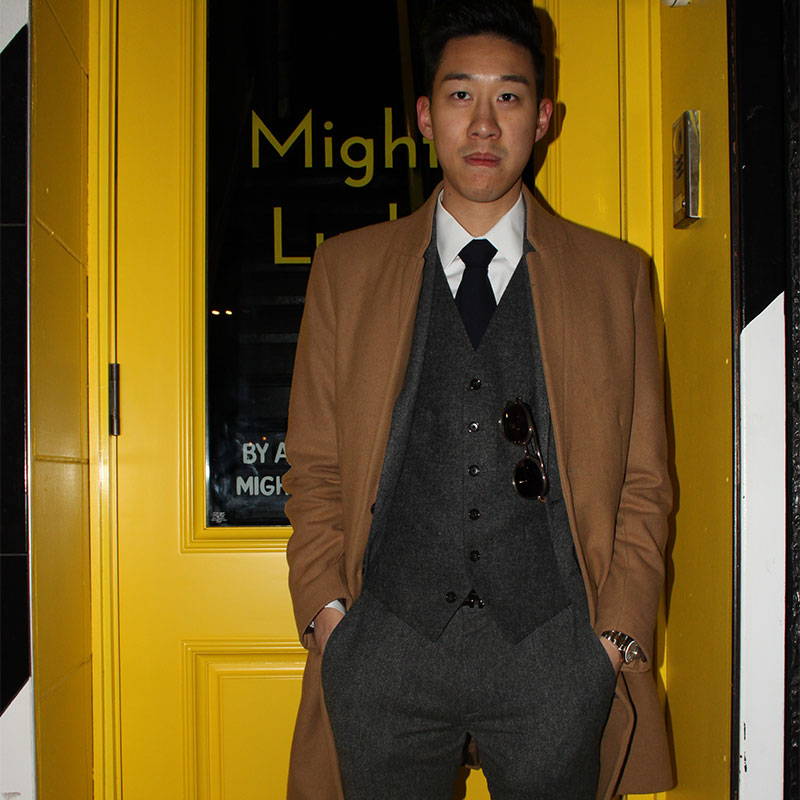 What are some staples pieces in your wardrobe that you couldn't live without?

"I love a good three-piece suit from J.Crew and live in the ones that I have. My Lewis Lightning Leather Jacket is clean enough to pair with a daytime or nighttime outfit. Last but certainly not least, my Saint Laurent Wyatt 30 Jodhpur Boots are always my go-to's."
Fashion is a really big part of who I know you to be. From launching your own streetwear line Jade & Alchemy back in 2014 and being one of the most stylish people I know, define your personal style in three words.
"My personal style is Classic and Tailored but always Statement-Making."

I know you've talked about deciding on what you want your legacy to be. Where do you stand on that now?

"Staying true to my path and inspiring the people around me to strive for greatness whenever I can in many ways be my legacy. "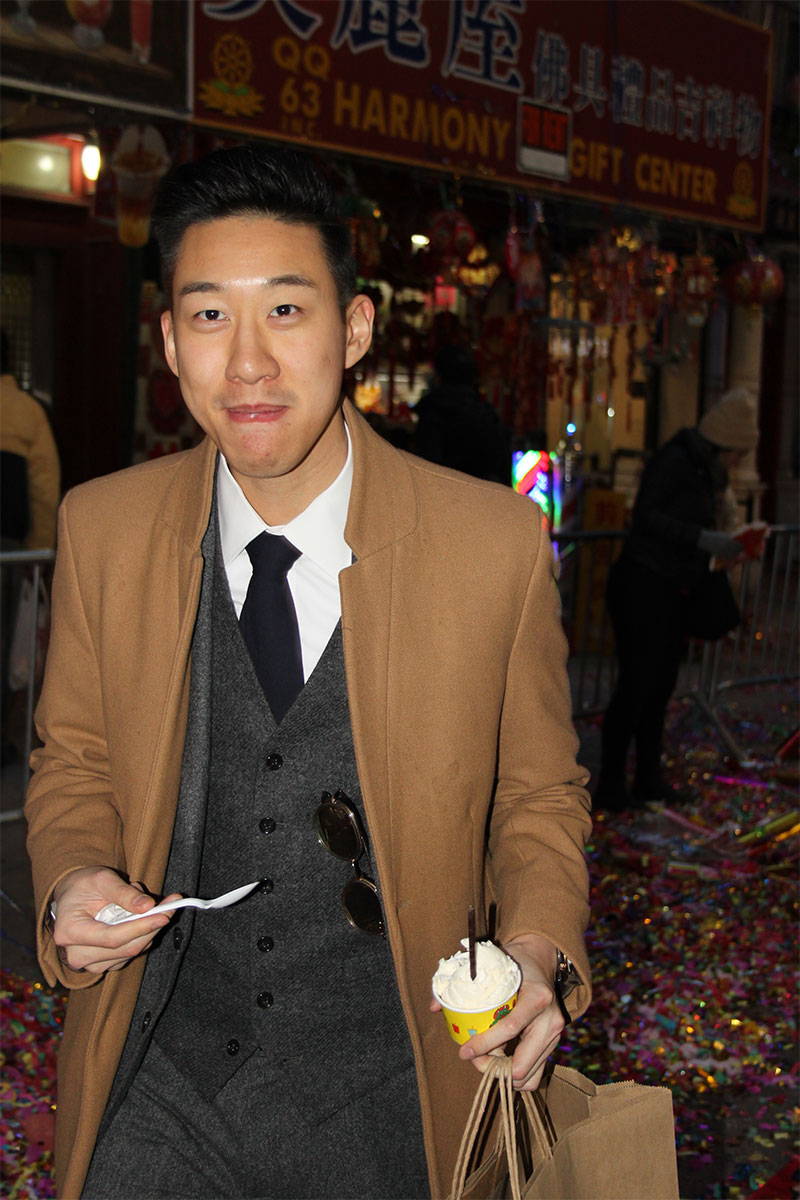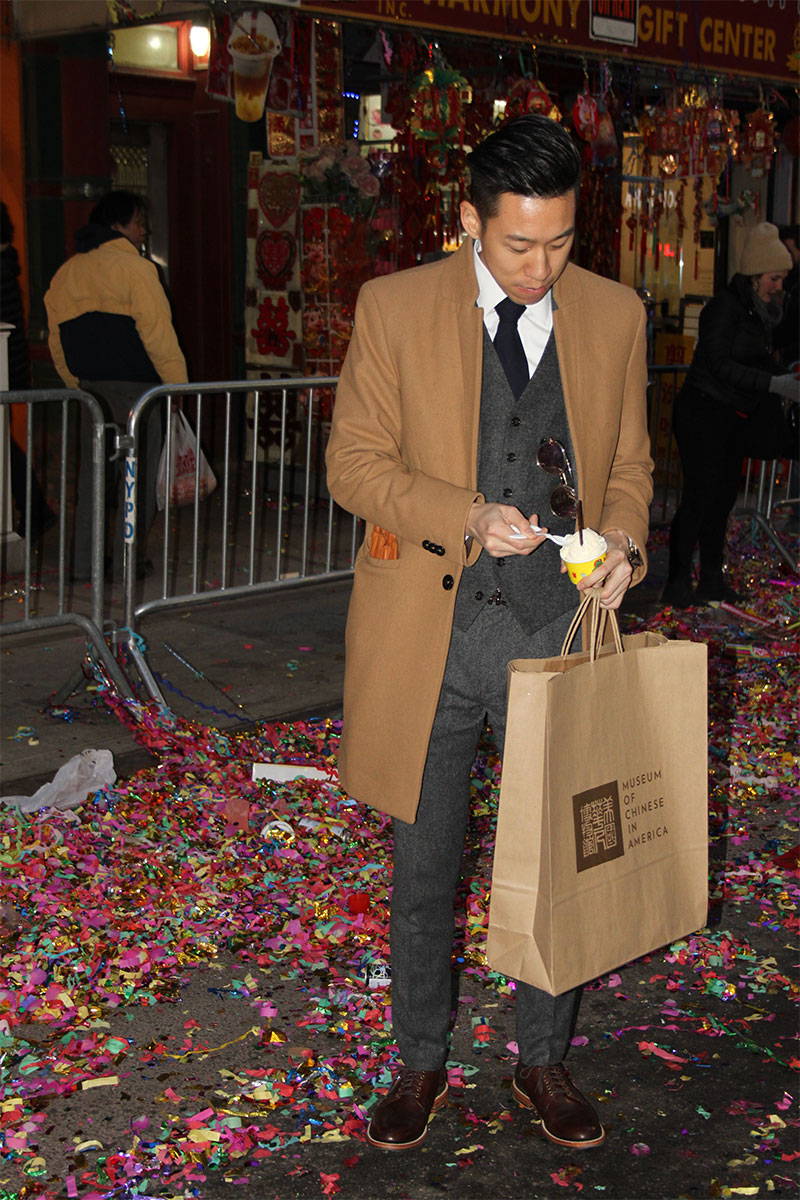 "I am truly happy when I am at a table eating and sharing experiences with my loved ones."
- Harvey Wong